AFTER-SHAVE stone:
Natural antiseptic, organic, economic and environnment friendly !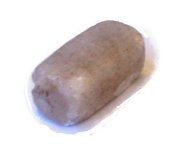 100% natural, this stone has to be rubbed on a wet skin, just after shaving (whether electric or using a blade). Its antiseptic effet is experimented with success by million of Indians since many generations....
It can also be used for minor wounds or scratches on the skin.
It will even prevent bad odours from your armpits !!
Completely natural stone that lasts for more than 5 years !!!
Yet, it only costs 5 Euros !!!
To order: HERE (only available at the end of october).


To come back anywhere in the site,
click on any link of the left menus.
Click here if don't see them.
---